Introducing
Lighting Art 2000
Stained glass look art lampshades & lighted wall art
Concepts by J. Duffin
Unique-one-of-a-kind, artist signed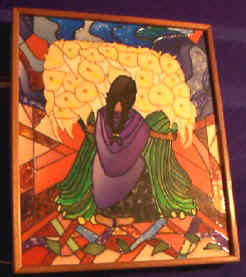 These fabric lampshades and canvas wall art have been created
in the realistic look of leaded stained glass.
Each art lampshade and lighted wall art is individually
inspired and named. Inspirations have come from world
famed Mexican artist, Diego Rivera; Southwestern artist,
Linda Carter Holman; Louis Comfort Tiffany and the
artistry of Mexican pottery known as Talavera.
This beautiful effect has been achieved by the artist's technique
and finishing process on the lampshades and wall art.
Predominant use of primary colors from acrylic and stain mediums.
The lampshades are fabric with a laminate back. They have a child safe durable
fire resistant finish. A lampbase with a harp is required and use standard
40 to 75 watt light bulbs. Lighting Art 2000 lampshades will not shatter if dropped.
They are easy care, dust with a soft cloth.
The back-lit wall art has been painted on canvas and has been mounted in a custom
shadowbox design frame of natural wood that has been highly polished. The lighted
wall art concept was developed with a hidden lighting component that when switched ON
shines through the painting providing a lovely low-light ambiance.
The wall art lighting component is easily replaceable.
The component will last for approximately 10,000 lighting hours.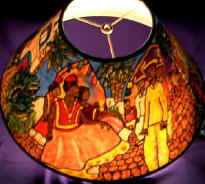 A description of each shade is provided on the Lamp Shades
page which will link you to the Photo Gallery
to view enlarged photo details.
* * Yes, I can create custom art lampshades or wall art for you * *

* Future works to come -- Safari - Jungle motifs, and more Diego Rivera
and L. Carter Holman inspired works

"Oasis" Lampshade inspired by Diego Rivera
Lighting Art 2000 also presents online for your home decor accents, woodturnings
and wood crafts from
Beau Rivage Designs In Wood

| | | | |
| --- | --- | --- | --- |
| | | | |


[ Home ] [ Lamp Shades ] [ Wall Art ] [ Wood Designs ] [ Contact Us ] [ Links ] [ Payment Info ] [ Photo Gallery ] [ About Us ]




Lighting Art 2000


All rights reserved
Updated 07/09/2010

This site created using Microsoft Front Page